Trading Standards are working to prevent the distribution and use of illegal tobacco.
Why is it an issue?
Far from being a victimless crime, the illegal tobacco trade makes it easier for children to start smoking – cigarettes sold at pocket money prices make it easy for children to obtain and become addicted. These cheap sources of tobacco take advantage of cash-strapped families, and helps fund other serious and organised crime such as modern slavery, people trafficking and drugs.
Illegal cigarettes often fail safety tests and do not go out when they should – a number of UK house fire deaths have been directly attributed to use of illegal cigarettes.
Download this free illegal tobacco leaflet for more information: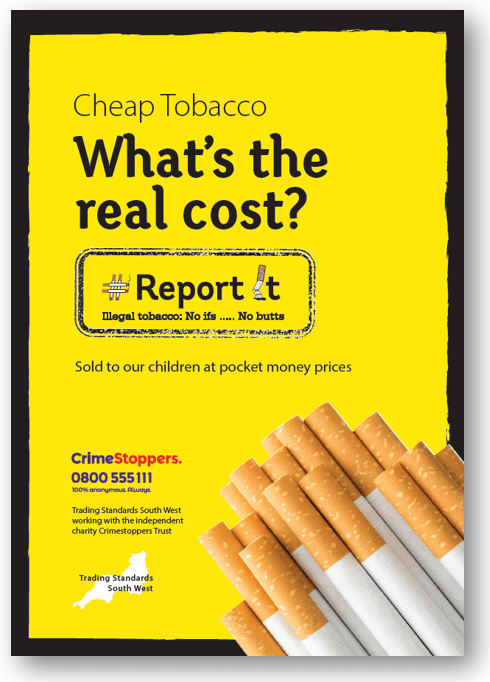 Report it now
You can help – if you know of illegal tobacco trading going on in your community please do not keep quiet we need to know about it. You can report it completely anonymously by contacting Devon and Somerset Trading Standards   or through the Trading Standards South West illegal tobacco website, using their reporting form.
Find out more about the work of Trading Standards South West.
www.tssw.org.uk
www.facebook.com/TradStandSW
www.twitter.com/TradStandSW